FOR SALE
September 2021: The Haldane HD100 featured on this website is now for sale. UK buyers only. Buyer must collect. Serious interested parties can email forsale@haldane100.com for more information.
The Story of a Kit Car Build
Power Steering
Another one of the changes I'd like to make is to convert to power steering, so I bought a second-hand FORD CAPRI rack complete with pump and pipes, etc. I measured up the differences between the two racks and, with advice from Mr Keith Hamer at RACE PREPARATIONS, had it machined down to size. Right, build that up! Wait a minute... you didn't think it was that easy did you? No. You see, the locknuts in the rack were badly chewed (not by me!) so off I went to get new ones. The parts man at FORD looked at me with what I can only describe as pity while telling me the usual, "No chance!" Again, more phone calls to loads of FORD specialists with same result – i.e. nil. So next step, off to the engineers who did the rack for me and asked if they would make a couple for me. "OK mate, but they'll be four quid each." "No problem," I said.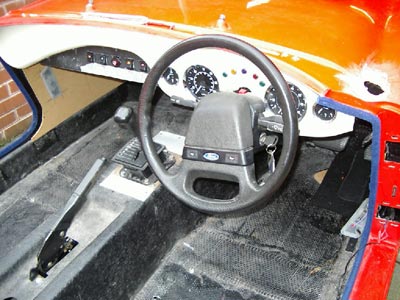 Steering wheel