The Story of a Kit Car Build
First Impressions
We found the car and started to have a good look round it. It seemed OK – well, as described anyway. I could see I was in for some hard work, but like every kit builder I imagined the finished product. After building a difficult kit before, I sort of knew what I was in for and didn't see it through rose tinted glasses.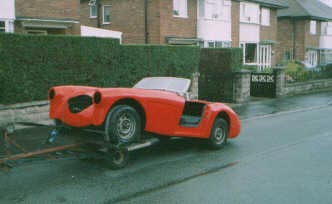 Fateful first journey
When it was back home with me, I had a better look round and where before I thought it might need stripping and re-starting, I was now certain it would. I found things like home made brake fittings, where he'd tried to bend old pipe to new shape and all sorts of other things. This car was a complete non-starter for the first owner who, like a lot of others, seemed to think that it's easy building a car and it will be finished for next summer. I'm not saying that all cars can't be done quickly – just some.