The Story of a Kit Car Build
Bodywork
I've bought all the paint I need to spray the bodywork with now and that task should be well underway by the time you're reading this. The car originally came gel coated in red, but that had faded over time so I'd decided as soon as I'd bought it that I would spray the car in the colours I wanted. I decided that Old English white over Midnight Blue would look nice and had the seats trimmed to suit that scheme. So now I had to find the colour to suit those.
Old English was easy as I'd sprayed my ROCHDALE that shade, so I knew what to expect, but the blue had to match the trim, so I took some along to the paint shop near me to get some paint to match. They asked me if I could call back later as it usually takes a bit longer to match something that isn't standard. So I went back about 30 minutes before they closed, picked up my paint and went home. It was only when I got home and checked that I found that it was upholstery paint! I hadn't even heard of it! "Goodness me", I thought. Or something along those lines. (Kids might read this so I'll keep what I really said to myself.) "They'll be shut now." Anyway, I rang and told them what had happened. They said to bring it back next week and they'd change it for me. I thought about this over the next week and then it hit me. My hood is black now and I could change it to the shade of the seats! Genius or what?
One of the things I did before spraying was to seal the rubber strip along the bottom of the windscreen that is supposed to help keep out any bad weather (with little effect I imagine). As I hadn't painted the car yet there was no way I was going to use silicone to do the job. As good as it is, it's a nightmare where paint is concerned. The two just don't mix. So I'm going to use sikaflex. I'll probably have to warm up the rubber strip before applying a thin bead which will be masked on both sides of the frame. If you've ever used this stuff you'll know why I said that. If you haven't then be VERY careful with it as it can be quite messy. Eventually I found out that the best way to smooth out the sikaflex is to use soapy water and latex gloves!
The spraying went pretty much as planned; doing it when the weather was pretty bad worked out OK for me as most of my neighbours had their windows shut. It would have been a bit anti-social of me to be spraying cellulose while people were having barbeques, etc.
I've done the bodywork two tone, as planned, but to get a sharp line between the two colours would need a better tape than straightforward masking tape. So after asking for advice, I was sold something that would do the job better. It's a plastic tape about ¼ inch wide which bends easier round the angles separating the two colours. You can get it narrower but it suited me.
A thing worth pointing out is that if the paint has an 'orange peel' effect, if it's not too bad it can be flattened and then polished to get a good finish. This is hard work and you have to be careful not to rub too hard and go through to the primer. You can see what I mean as I had to do it on the doors. You can get wet & dry paper as fine as 2000 grit, then go on to polishing. This is much better done by machine though.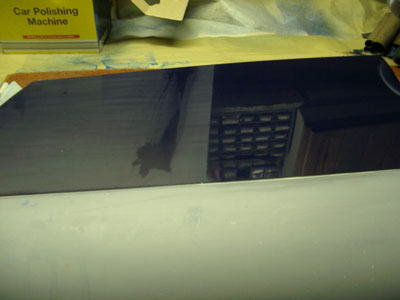 Half polished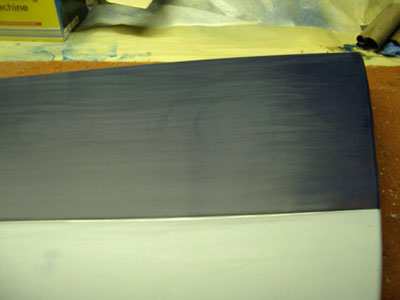 All flat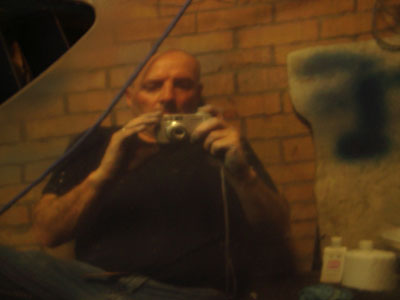 My reflection in paint