The Story of a Kit Car Build
Cooling System: Part II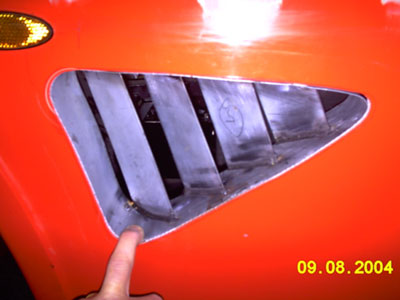 Side vents
If you read the earlier part regarding side vents to help cool the engine by increasing the airflow through the engine bay, you'll see the type of thing I used here. I bought some alloy ones from a well known AUSTIN HEALEY parts supplier. They were expensive at around £125 but I thought they looked the part and would do the job I wanted. When they arrived I took one look and said, "They're going straight back!" They were absolutely dreadful! It looked as if they'd been pulled out of the scrap bin and posted to me. I phoned them the next day and told them what I was doing but they didn't seem to understand what I was talking about. It went something like this:
Me: "They're coming back. They're full of scratches, twisted and aren't the same size."

Them: "Why, what's wrong? You can paint them. They'll twist into place when you fit them. And anyway, people want them like that so they look original."
And when I got my next credit card statement, they'd taken money off ME for a handling charge!!!
Anyway, I phoned and told them what I thought of them in no uncertain terms and got my money back from the card people.
The upshot was that I made a template from photos I'd got and made myself a 'former' to bend some 3 inch strips of mild steel round and made my own. Total cost £5. Yes. You read it right. A FIVER! And that was for the steel cut how I wanted it.